Rocketed to Earth from the remnants of the doomed planet Krypton. Faster than a speeding bullet! More powerful than a locomotive! Able to leap tall buildings in a single bound! It's a bird! It's a plane! No! It's………………….not Superman!!!!!!!! It's SuperGIRL!!!!!!
Kara Zor-el is the last daughter of Krypton. Well she has also been a sortof blob like android either with two minds or with out. & an angel. & the future daughter of Lois Lane & Clark Kent. & the last daughter of Krypton from a parallel Earth. Am I missing any?
In any of her identities, Kara has been one of the most enduring elements of the Superman story. DC Comics tries to get rid of her but she always returns. Because how can you not love Superman in the form of a smart, young, caring woman with more than a little bit of teen angst?
In putting together this list of the 10 Supergirl stories that you must read, I realized that what makes Kara special is that her defining moments are all about her relationships………with her parents, her cousin Kal-el, Wonder Woman, Batgirl, Lana Lang, Lois Lane, Jimmy Olsen, Ma & Pa Kent, Damian Wayne & Dick Grayson. Even with herself in many strange ways! Does this mean that Kara is defined by others? Absolutely not! Kara is defined by the way she cares for other creatures, & even today…………..when the new 52 Kal-el seems most of the time to be more interested in himself than others…………..Kara is driven to become an angry Red Lantern because she cares too much for her lost family, her new friends & why her new enemies treat her the way that they do.
But I am spending too much time on the prequel! These are the 10 stories that you should read to learn about Kara Zor-el………….& join the millions who love her!
I just add that I struggled about including Kara Zor-L…………Supergirl of Earth 2 or more popularly known as Power Girl, but the 2 characters have existed together for 30 years so I think that Power Girl deserves her own list to come later! & I did not include Cir-el…………the possible daughter of Lois & Clark………….because, well, none of her stories are that interesting! 😉
1. To learn who is KARA ZOR-EL……….Actions Comics #252
The story that started it all! After a test run with a 'Superwoman' that looked strangely like Kara several issues before, Otto Binder & Al Plastino introduce Kara Zor-el to her older / younger cousin Kal-el in May 1959!
2. To learn what being a supergirl FEELS LIKE………….Tim Sale Solo 'Young Love'
Tim Sale, Diana Schutz & Dave Stewart tell a short story of Kara's 1st love in her secret identity of Linda Lee. It is a heartbreaking & romantic & lovely vignette that normally would be reserved for a Superman story. :')
3. To learn what every day is like as a supergirl in a SUPERMAN'S WORLD…………Wednesday Comics
This is the only story I have included of the 'Matrix Supergirl'…………not exactly Superman's cousin, she is from an alternate universe where the Phantom Zone villains killed almost every one on Earth. Peter David wrote many fabulous stories with 'Mae' but you really need to read them all because it gets very complicated! 'Wednesday Comics' was 1 of DC Comics attempts at a weekly comic with individual comic strips………..Amanda Connor & Jimmy Palmiotti had the best 1 as Kara / Mae cat & dog sits Streaky the supercat & Krypto the superdog. Sooooooo much fun!
4. To learn about Kara's world's finest BFF…………..Batgirl Volume 2 #14 'Terror In The Third Dimension'
BFFs Stephanie Brown (Batgirl) & Kara Zor-el continue the tradition of Batgirl / Supergirl crossovers with a girls night at the movies……………a fabulous examination of their relationship & a fight with Dracula!
5. To learn about Kara's super FRIENDS…………..Justice League of America Volume 2 #50-53 'JLA: Omega'
Kara takes her cousin's place in the Justice League, beats up Ultraman, becomes Dick Grayson's (Batman's) secret weapon, develops very realistic relationships with her new team mates & reveals her bad girl side! By James Robinson & Marc Bagley.
6. To learn about fitting in as a SUPERGIRL……….Supergirl Volume 2 #65-67 'This Is Not My Life'
Kelly Sue DeConnick, ChrisCross & Marc Deering tells the final story of Kara before the new 52…………..& it is a bitter sweet good bye! :'(
7. To learn about from where Kara CAME………….Supergirl Volume 3 #0 'The End Of The Beginning'
My favorite story from the current Supergirl, this issue is not only necessary to define who Kara Zor-el is today, but Michael Green, Mike Johnson & Mahmud Asrar use this story to define the current version of Krypton making it important for Superman readers as well!
8. To learn about to where Kara is GOING………….Man Of Steel Movie Prequel
The 'Man Of Steel Movie Prequel' by David S. Goyer, Geoff Johns, Zach Snyder, Sterling Gates, Jerry Ordway, Bob MacLeod, Joe Rubenstein & Bob Wiacek is mostly important because it includes Kara, daughter of the House Of El, on board a Kryptonian Space Craft that crashes on Earth in the distant past…………….in other words there is a girl of steel too!!!!!!!!
9. To learn why Kara is a GIRL……………Supergirl – Cosmic Adventures In The 8th Grade #1-6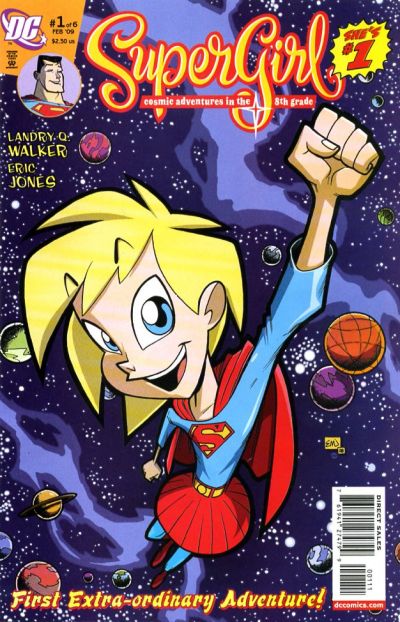 This is an all ages story but 1 read almost broke my heart with how sweet it is! Landry Q. Walker & Eric Jones tell a story about the Kara we love but her parents are still alive so she gets to talk to her mom Allura from her boarding school.
10. To learn why Kara is SUPER……………..Crisis On Infinite Earths
Kal-el explains it better than I can! The final real appearance of the original Supergirl, most people will say that the key story to read is Crisis On Infinite Earths #7 where Kara becomes the greatest hero in the DC Universe, but I think in order to appreciate that issue you should read the whole story. Kara appears here & there but is mostly in the shadow of other characters like Wonder Woman & two versions of Superman. Then there is a wonderfully heartfelt conversation between Kara & Barbara Gordon (Batgirl), all making the climax of issue #7 more poignant! By the legendary Marv Wolfman & George Pérez! :')
Honorable Mention to learn the difference between a supergirl & a POWER GIRL………..Supergirl Volume 3 #20
I said that I was not going to include Power Girl on this list, but in this issue Kara Zor-el meets Kara Zor-L & we can better see the distinction between the 2! Thank you Misters Michael Allan Nelson & Mahmud Asrar!
So this is my 'expert' opinion! Do you all agree or disagree? I would love to hear your opinions!
-30-