Hello guys and gals!  As you know, the last few years I have been fortunate enough to work with conventions in different cities,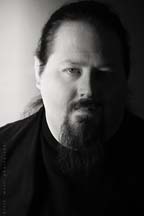 interviewing, posting video updates, writing reviews and even doing fun photoshoots for promotional fliers.  Through all of this, I have had the opportunity to meet and work beside many talented people.
One of the talented people that I have had the pleasure of working with is author/photographer Dan Wickline.  Dan has written and worked with publishers such as Zenescope on Grimm Fairy Tales, has written on 30 days of Night and also writes for other ongoing series such as The Adventures of Sinbad and Shadowhawk.
Not only does Dan write, he is a photographer and most recently, has begun a viral series on YouTube.  First, he started with a bit of viral marketing.  Here are some examples, including one I was fortunate enough to be in:
These are ongoing posts that not only bring you information about him and what he is working on, but keep you interested by having pretty ladies relay the message.  Good job Dan.  Nice thinking.
Also on his list of videos is a comedy puppet series he's playing with entitled "Your hand is Where?"  I will be updating with posts from Dan as often as he updates, here on Comic Booked, as well as adding his videos to our media channels.  I will post links often and let you know when they are up.  Stay up to date with posts by visiting his YouTube channel: http://www.youtube.com/user/danwick70 and by Liking us on facebook: http://www.facebook.com/ComicBooked
Stay tuned!
Yours truly,
Victoria Paege