Rich Buckler, the prolific comic book artist that became a favorite to many in the world has passed at 68.
According to a variety of sources, Buckler had been battling cancer for quite some time before it finally took him on May 19 2017.
"Marvel is deeply saddened by the loss of artist Rich Buckler. We offer our condolences to his family, friends, and fans worldwide." Said Marvel via Twitter
Buckler had a long and storied history at both Marvel Comics and D.C. Comics. Some of his most famous achievements are the creation of Deathlok and his work on the Fantastic Four for Marvel and being the co-creator of All-Star Squadron for D.C. Comics as well as his work on Superman vs. Shazam! for the same publisher.  It all started in the year of 1967 when he broke in to the professional comic book world to work on Flash Gordon #10.  According to TheDetroitHub, Buckler was the first comic book creator hailing from Detroit.
Buckler then went across the street to work on Marvel's Black Panther in the book Jungle Action and then a decade long run on the iconic and long running Fantastic Four series. It was also during this time that Buckler hired a young and eager and talented individual named George Perez. It was during this same time that his creation Deathlok appeared in 1974's Astonishing Tales # 25.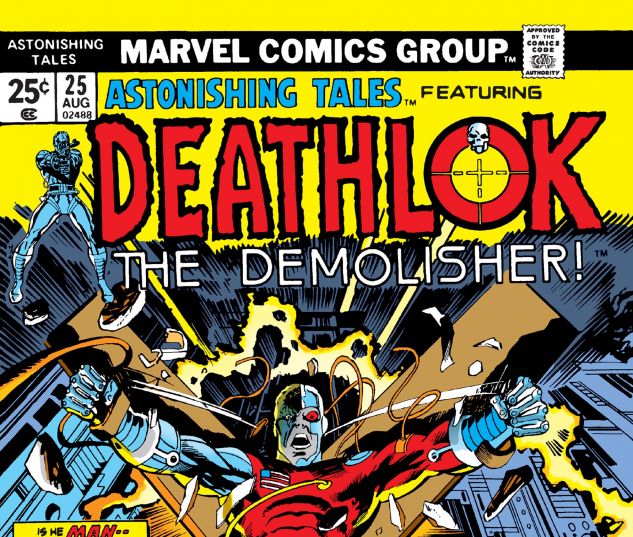 On social media his friends and partners and co-workers paid their respects:
REST IN PEACE, my old friend! — Jim Steranko
As you may know, artist-writer RICH BUCKLER lost his battle with cancer yesterday! He was 68—and as dedicated to his art as he ever was!!! — Jim Steranko
"Deathlok was true subversive 70's sci-fi and quite a good looking boy. R.I.P. Rich Buckler, one of my early Marvel art gods" — Joss Whedon
Our condolences to the friends and family of Rich Buckler. — Albatross Funnybooks
We're saddened to hear of the passing of the great comic book artist, Rich Buckler. Our deepest sympathies are with his family & his fans. — D.C. Comics
George Perez, in memorium to his long time friend, reposted a story first told via interview in the pages of Wizard Magazine #35. It is the story of how he broke in to comic books:  "I got in with [Factor Unknown], but meanwhile Sal Quartuccio [now head of Sal Q Productions] had shown my stuff to [artist] Rich Buckler. Rich need an assistant and called me up with an offer. I was working as a bank teller at the time.
My first published pro work was on Rich's first issue of Deathlok, Astonishing Tales #25. He gave me a two-page cartoon sequence at the end showing how he and Doug Moench came up with Deathlok from discarded ideas in a trash pail. My art being what it was at the time, I penciled everything except the Deathlok figure.
By being Rich's assistant, people at Marvel got to know me. And people like [editor] Jim Salicrup and [writers] David Kraft and Bill Mantlosaw my work, liked it, and got me my first work under my own name.George Tuska needed a break on the Man-Wolf feature in Creatures on the Loose and Dave Kraft liked working with me, so he asked me to stay. Around the same time, I was given a fill-in on the Sons of the Tiger feature in Deadly Hans of Kung Fu #6, but Bill Mantlo asked for me to stay on as well.
"Thanks to them, I was given regular work fairly quickly. That was around 1974, only two years out of high school. Within six months after that, Rich Buckler fell behind. Since I was Rich's assistant, they asked me to pencil what was supposed to be a Fantastic Four annual and turn into two issues of the regular book [#164-#165]."
Just like his artistry on the comic book page, Rich Buckler has left an indelible mark on the comic book industry and his legion of fans. Rest well, Rest in peace Mr. Buckler. You will be missed.