Humans, Thessans, Majins… enter the "majik"al world of The Sword is My Lady.
Shabazz Malikali is a creative force all by himself. He is the creator, writer, artist, letterer, and editor of his own comic book series, The Sword is My Lady (TSIML), which he distributes with his own imprint, Night-M.A.I.R.S., on ComiXology. I think I've stated this with Michael L. Peters' Crescent City Magick, but I really respect an comic creator who is both writer and artist, as it's a lot of work to not only script a story but draw it as well.
I first became familiar with Shabazz Malikali on Facebook. I was impressed by his openness as a creator and his DIY ethics. He is focused as a creator to own his own property, and he is straight forward in his judgments about flaws in the industry. As a person, he's pretty direct and unapologetic in his views, which probably isn't as common as it should be in a world of creators who bite their tongues for professional reasons, afraid to burn bridges and turn potential fans off for their honesty. From art and comic books to politics to social views, Shabazz Malikali doesn't sugarcoat anything for anyone's comfort level… so I have a lot of respect for Shabazz as a creator and as a human being.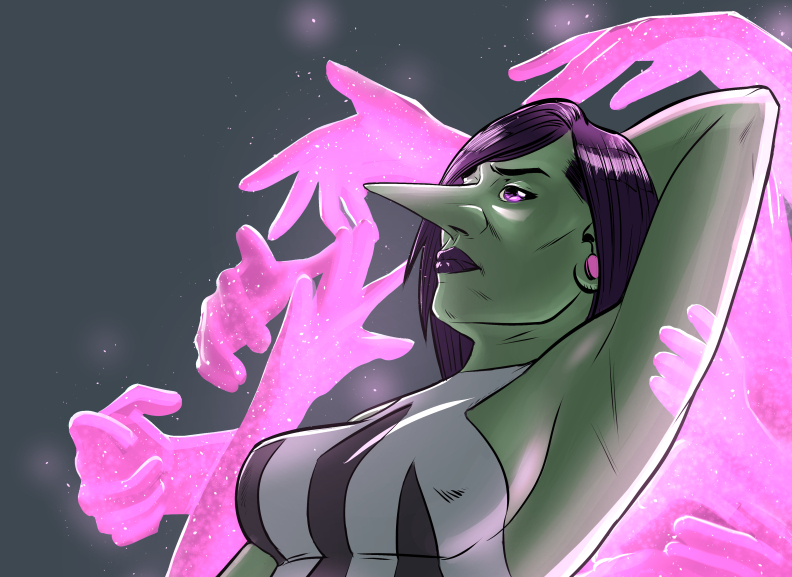 I've known about The Sword is My Lady for some time now, and finally bought the issues on ComiXology after putting it off for a long time. Too long. From his art on Facebook, I knew what to expect in visuals. His colors are bright and eye-catching, his lines clean, his proportions dead-on. The art style is unique, more modern western-comic style to me though there are strong anime/manga influences in the action, eyes, and facial expressions. The facial expressions, by the way, are very good, speaking as loudly for the characters as their words do. There's no skimping on backgrounds or character design when it comes to detail- Shabazz takes his time with everything. My favorite part about Shabazz's art is the colors, hands down, especially in capturing light. Shabazz is very professional with his art, and I may be wrong, but I believe he's a self-taught artist… so seeing what he can do on his own as an artist is impressive.
Seeing what he can do as an artist AND as a writer is even more intriguing. Shabazz has come up with a story that's original, well-paced, and fun. His dialogue is good, comedic, and personality-driven. With the story-line, he tells a bit, especially in the introductions, but he does more showing through action, art, and dialogue. There's good balance. Elements of philosophy that are reminiscent of stoicism, taoism, and samurai culture popped out at me, especially with military-based characters and captions. Issue 2 is heavily layered with this warrior philosophy. Magic also plays a huge part of the TSIML series with the different magical species in the story. The Sword is My Lady is unique, though the closest series it reminds me of, due to its magic/military hybrid with European-style military costumes, is Fullmetal Alchemist.
The Sword is my Lady is a three-part series, apparently, leading up to a graphic novel called The Sword, The Witch, and the Gun (which Shabazz is probably working on at this moment). The comic is set in the fictional country of Elutheria, mostly around the character Brigadier General Bolo Jenkins, a stubborn yet stoic human warrior, for issues 1 and 2. He meets a woman born of magic (whose name must be kept a secret until you read issue 2) who helps him in his journey. Together, they travel to Fae and fight rivals.
There is also a prologue that goes with this three issue series (making four books in total), and the prologue revolves around The Slave Hunter, a green-skinned Majin witch with magical powers. The prologue has stunning art, especially in showing the planet this story takes place in and a magical "shroud" that was created around this world. The depictions of the different races, from humans to Thessans and Majins, is incredible. There's a lot of cool experimentation with panel layers, and cool magic techniques. Dealing with slaves, the story-line also borrows from the history of the Underground Railroad in the mid-1800's of America, and Sojourner Truth.
The third issue takes place in a very busy metropolis, and the art is mind-blowing. From vehicles to people, horses to buildings, Shabazz pours his heart and soul into each and every panel. The story in this third issue shifts to a younger protagonist, Shell, who uses a magically charged pop-gun as a weapon. From the costumes in this issue to the interior designs of buildings, I enjoyed getting lost in the culture Shabazz created with the city of Fey. The fight scenes in this issue are great, with a lot of explosives, sword, magic, and gun action. At the same time, the story-line is never abandoned, and the plot has focus.
So, in reading The Sword is My Lady, I read a work with well-defined characters, a detailed but not overwhelming story, cool scenes, intricate, beautiful artwork, and flashy colors. I found a work where story and art compliment each other every step of the way, all under the control of one creator. It's creators like these who I love to see succeed, creators who own their own properties and develop works that are masterpieces all on their own merit. To find creators with a strong independent ethic like Shabazz Malikali and Michael L. Peters is inspirational, and I hope that more readers find The Sword is My Lady. The comic is worth reading every step of the way.
That said, Ashley Gray is a badass. Evil, but a badass.